A little history behind this post. I originally wrote a version of this for a college newspaper and I ran across it a few days ago. I decided to rewrite it and present it here because I think it's still and important thing to write about.
Ohh la la
It has recently come to my attention, while scrolling through Facebook, that there is new scientific
research that ascribes better sleep patterns, healthier bodies and minds to sleeping in the nude. Now, I for one am not here to poo-poo these articles; instead, to help fight a now decades old fashion faux-pas: pajamas in public.
Why?
Once upon a time, being seen in public in your pajamas was an absolute nightmare. Commonly viewed the same as undergarments,
pajamas were seen as something that the public ought not to be aware what a person's pajamas looked like. However, sometime in the late 90s someone decided it was a-ok to parade their plaid flannel pajamas where everyone can see them. Thus introducing an ugly, smelly, disheveled trend upon the unwitting masses.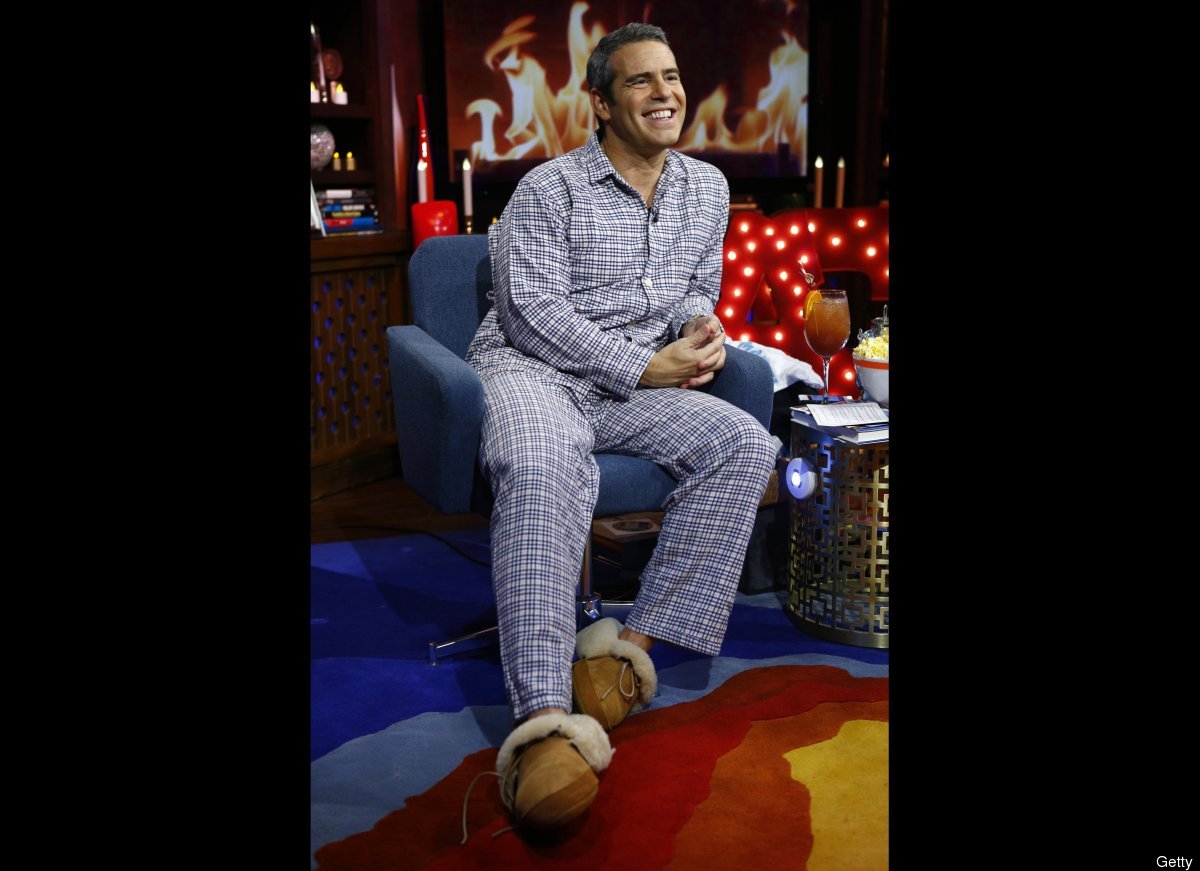 Not you too Andy Cohen
It is bad enough when high schoolers and college students partake of this trend, but it is absolutely unacceptable for you to wear you pajamas in public when you have left school. There are very few reasons to ever wear your pajamas in public further than the end of your drive way. It takes a matter of seconds to throw on real pants or even a skirt or a dress. If you are dropping the kids at the bus stop and not leaving your car, fine, wear you pajamas. Just don't go straight from there to the store.
Pretty fab for this look.
For clarity sake let me say now that this is not just a tirade about being fashion conscience. No, this also a tirade about cleanliness. If you have not felt pajama pants in awhile, they are often quite thin thus reducing the amount of fabric between your body and other people. Moreover and more importantly, they smell. You slept in them, people sweat when they sleep, pajamas absorb sweat and dirt and dead skin from you when you are sleeping. This absorption leads to odor not just your body odor, but the odor of sweaty dirty fabric.
Let me also add that there is a direct correlation between getting dressed and how you feel about yourself. When a person puts on a really nice outfit it can change their entire it can make them feel more confident. Think about what you like to wear on a date or to a job interview. It isn't pajamas, it's something that you feel comfortable in but gives you that little bit of an extra boost that says "hey, I look pretty good." Moreover, this confidence derived from your personal appearance is often then conveyed to the people around you that you are a capable adult able to dress yourself in the morning.
There are still critics of my disdain of pajamas in public, saying things like "pajamas are more comfortable than jeans or khakis." True, they are, unless you buy jeans and khakis that fit right. Choosing softer denims in looser fits can be as comfortable as wearing pajamas.
Doesn't this look super comfy?
Women's pants often present a wider variety of fabrics to choose from as more brands introduce stylish looking cottons, satins, and silks into their pant collections. Furthermore, there are wonderful cuts like palazzo, sailor pants, and gauchos, even culottes have made a recent come back, along with rompers, playsuits, and jumpsuits that are very comfortable. Even men's pants have had the marvelous advent of the jogger which many brands are making into the go to casual pant.
Fabulous
A few important things to remember though when choosing your pants is fit. Choosing relaxed and loose fits are a great choice for casual jeans since they don't hug as close to the body and often come in softer, lighter weight denims. Straight cut and trouser cut denims in dark washes are great as a more relaxed look for business casual looks. However, khakis, chinos, wool pants, and other trouser cut pants are still the go to office clothing.
I could wear these joggers
Again look for slightly looser cuts that skim across the hip. Straight, loose, and some brands have a cut they term a classic cut are excellent options as they tend to either go straight from the hip down to the ankle thus creating a looser leg opening.
A perfectly comfortable chic look
When sizing your pants, be sure that you can slip your hand between the waistband of your pant and your waist with little or no effort. Another great test is to squat down with your back to the mirror and look over your shoulder: if you can see more than and inch of your posterior, you need to pick a pant with a higher waist or at least a slightly looser fit.
Last complaint about pants before closing. Sagging, just no. Stop it now. No one should be forced to see more than approximately two inches of your underwear at max. If you are not sure how much two inches is, buy a ruler. For the record I would also like to add that sagging skinny jeans defeats the whole point of skinny jeans, so please pull them up.
Purple leopard print sagging skinny jeans!!!
In life we have many decisions to make, many of those decisions about clothing. Please make the smart decision and keep your pajama pants at home.